Neil Gaiman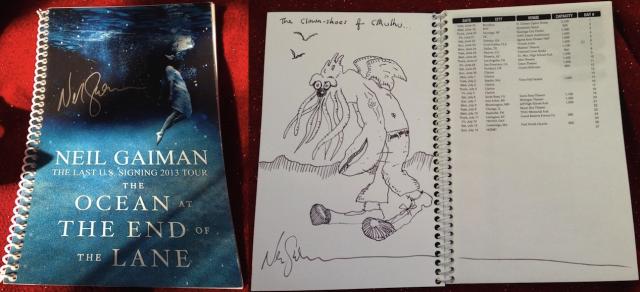 ---
Neil Gaiman
Sandman, The Graveyard Book, Coraline
This OCEAN AT THE END OF THE LANE Summer 2013 Tour Book is a very rare item. It's signed by Neil Gaiman on the cover and, inside the book, he has also drawn and signed a wonderful "The Clown-shoes of Cthulhu" doodle.

Best-selling author Neil Gaiman is an author of science fiction & fantasy short stories and novels, graphic novels, comics, audio theatre, and films. His notable works include THE SANDMAN comic book series, STARDUST, AMERICAN GODS, CORALINE, THE GRAVEYARD BOOK, and OCEAN AT THE END OF THE LANE, his first new novel for adults since his #1 New York Times bestseller ANANSI BOYS. It was named "book of the year" in the 2013 UK Specsavers National Book Awards.

Neil's writing has won numerous awards, including the Hugo, Nebula, and Bram Stoker, as well as the 2009 Newbery Medal for THE GRAVEYARD BOOK which also won the 2009 Hugo Award for Best Novel, a Locus Award for best Young Adult novel, and the 2010 Carnegie Medal in Literature. He is the first author to win both the Newbery and the Carnegie medals for the same work. Plans for a film version of this book are in the works.

His children's novel CORALINE, published in 2002, was also a New York Times and international bestseller and an enormous critical success; it won the Elizabeth Burr/ Worzalla, the BSFA, the Hugo, the Nebula, and the Bram Stoker awards. The animated film, CORALINE, - directed by Henry Selick - was released widely in US theaters on February 6, 2009 and received a 2010 Academy Award nomination for Best Animated Feature Film of the Year as well as a BAFTA Film Award nomination. It won the BAFTA Children's Award for Best Feature Film in 2009.

Visit Neil's Official Website, NeilGaiman.net, his official online bookstore, and NeverWear.net, your one-stop shop for Gaiman apparel, prints, jewelry, and all sorts of treasures.