Norman Bridwell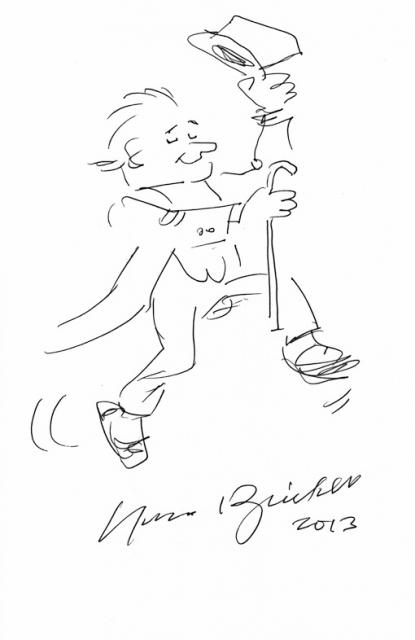 ---
Norman Bridwell
Clifford the Big Red Dog
Second Chance! This doodle, originally auctioned in 2013, was generously re-donated by the winner.

Norman Bridwell, creator of more than 150 titles starring the iconic Clifford the Big Red Dog, died on Martha's Vineyard on December 12, 2014. He was 86.

Bridwell's famous pup, introduced in 1963, was originally going to be called Tiny. But his wife, Norma, suggested that the dog be named after her own childhood imaginary friend, Clifford. Bridwell took further family inspiration when creating the Emily Elizabeth character in the Clifford stories; she is named for the Bridwells' daughter. The books in the Clifford series, all published by Scholastic, number more than 129 million copies in print and have been translated into 13 languages. Adding to his fame, Clifford became a TV star in 2000 with the launch of the PBS Kids animated series based on the books. His likeness can also be found on a broad range of licensed items including clothing and games.

Bridwell was born February 15, 1928 in Kokomo, Ind. As a child he was fond of making up stories and acting them out with toy soldiers or dolls with his own handmade scenery as a backdrop. He also liked to draw from an early age, but his teachers didn't think he was very good at it. Upon graduating high school he pursued his passion and went to study at the John Herron Art Institute in Indianapolis, and then at Cooper Union Art School in New York.

After working as a freelance artist in New York, Bridwell embarked on a career illustrating children's books. He met with lots of rejection when he showed his portfolio at various companies, until one editor suggested he write stories to go along with his picture of a huge red dog and a small girl. The eventual story was turned down by nine other publishers before being signed by Scholastic, his publishing house of half a century.

The magic of the character and stories Norman created with Clifford is that children can see themselves in this big dog who tries very hard to be good, but is somewhat clumsy and always bumping into things and making mistakes. What comforts the reader is that Clifford is always forgiven by Emily Elizabeth, who loves him unconditionally.

Prior to his death, Bridwell had completed work on two new projects: Clifford Goes to Kindergarten (released April 28, 2015); and Clifford Celebrates Hanukkah, scheduled for publication in September 29, 2015.